Important Information about Coronavirus (COVID-19)
Welcome to the Stamford Healthcare Credit Union, Inc., where we have been "People Helping People" since 1978.
A credit union is a member-owned, not-for-profit, cooperative financial institution, formed to encourage savings by offering a good return, use collective monies to make loans at low interest rates to members, and provide a variety of financial services. Members are united by a common bond and democratically operate the credit union under state or federal regulations.
Member Connect and TruStage
Reorder Checks
FREE CREDIT REPORT
The Stamford Healthcare Employees Credit Union, Inc. is not responsible for the content or availability of any linked sites.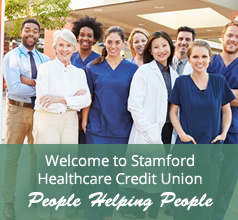 As part of SHCCU, you can choose from a variety of services and enjoy quick, friendly service. We serve employees of the Stamford Health System and members of their immediate family. To join, obtain a membership card from the credit union office. Once you become a member, you are always a member, regardless of where you live or work, unless you decide to close your account.
SHCCU is a legal cooperative, and you are one of the owners. As such, you help elect the Board of Directors and committee members who will run the credit union. Each member is insured to $250,000 individually.
The Mission Statement of The Stamford Healthcare Credit Union, Inc. is to provide quality financial services to its members in an equitable manner without regard to employment status, ethnic background or financial worth.
Welcome to your credit union. Rose -Coscarelli-Curtis, CEO